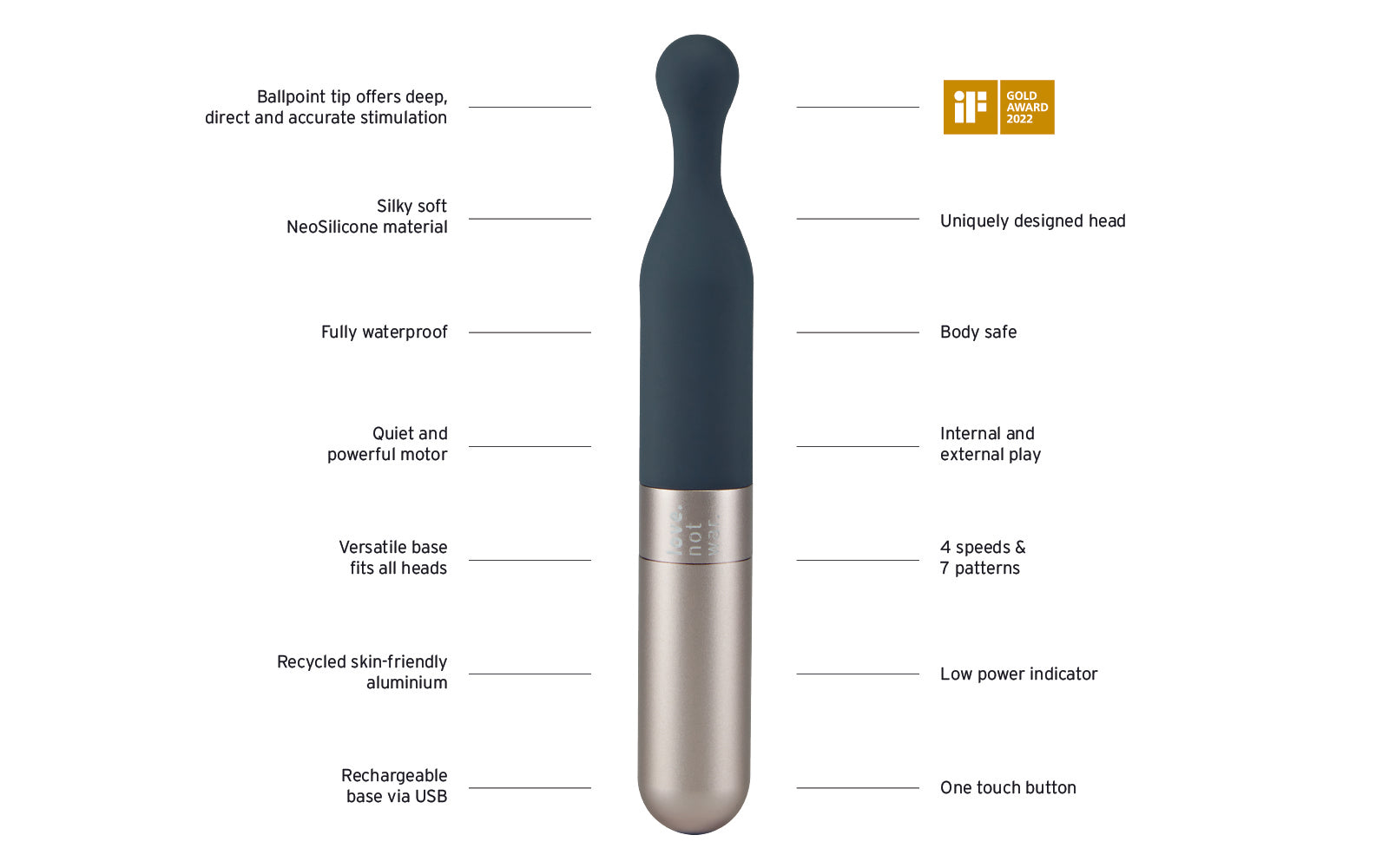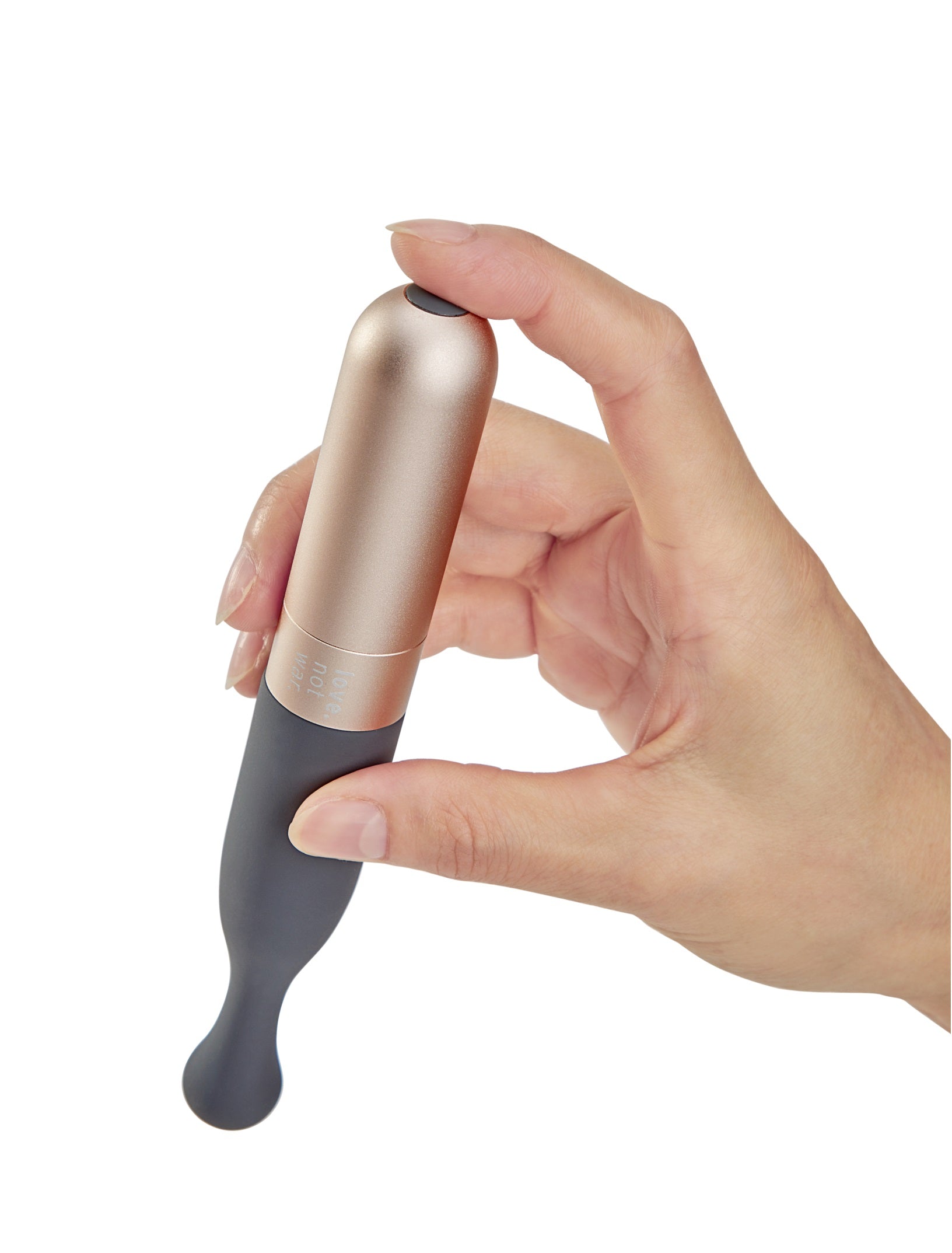 Meile - Quiet Couples Vibrator for Targeted Clitoral Stimulation
Now with NeoSilicone™

Get straight to the point, with MEILE.

A revolutionary shape for revolutionary pleasure, MEILE offers direct and accurate sensations exactly where you want them. It represents a new generation of sex toy design, in which we considered exactly what it was about pleasure products that made them great, stripped out everything unnecessary, and were left with what we believe is the ideal vibe form.

The ballpoint tip transmits the powerful, tingly sensations deep into your body, making MEILE unmatched for foreplay and exploration. It's rechargeable and waterproof too, a powerful combination.

NeoSilicone™ is the world's first silicone compound that's safe to use with superior silicone lubricants. Lube is a right, not a luxury.

For: Clit stimulation, nipple play and all over external love
Feels: Super soft to the touch and deceptively powerful
Bonus: It's safe for vaginal play and is long enough to reach the G-spot on many bodies
Type: Bullet vibe

Length: 160mm

Diameter: Ø22.5mm

Battery life: 1 hour on max

Charging time: 2 hours

Meile - Quiet Couples Vibrator for Targeted Clitoral Stimulation
Features
Made from body & earth safe materials
- The earth and your clit will thank you
Compatible with all love. not war. vibe heads
- Only 1 rechargeable battery base needed for multiple toys
Waterproof
- Long baths, quick showers and naughty lake days approved
Repairable and recyclable
Quiet
- Because some things you might like to keep to yourself
Low Power Indicator
- Don't get caught with your pants down
Shipping
Conscientious shipping
At love. not war. we make it a priority for our shipping process to match our products, in that it is as 'green' as possible.  Everything from our shipping partners to our packaging is taken into consideration.
Fast & Discreet Shipping
Once your order has been shipped you should receive it within 5 working days. 
Shipping prices will depend on your location:
UK -  Free shipping
USA -  Free shipping
Rest of world - £20
You may also care to know that all love. not war. products are delivered in completely discreet packaging with no clues as to what is inside the package.
Get in touch
We currently ship to the UK, Europe and the USA. However, it is important to note that we are always adding more markets to our shipment list, so if you are currently living outside of these areas, please feel free to get in touch with us at hello@l-n-w.com and we will see what is possible. 
Our dedication to sustainability.
MEILE's inner body and end ring are made with 100% recycled aluminium. The motor back in the battery base is made with a plastic that is biodegradable, and our logo is lovingly engraved onto the toy with a laser, so there is no ink or nasty chemicals used. 
Did you know that our discreet packaging comes in its original colour? This is because we want to use as little water or chemicals as possible, therefore we don't dye our boxes. They are also sealed with earth-friendly glue, and the ink used on our packaging is soy-ink, a sustainable solution.
When you choose to shop with love. not war., your clit AND the Earth will thank you.
Helping you get straight to the point.
MEILE is a silky soft, bullet vibe with a ballpoint tip perfect for clitoral stimulation.
Believe us when we say, the tapered tip helps you reach that big O in seconds… However, for days when you want to spend hours on your pleasure, the lower settings offer a rumbly vibration that lets you build slowly.
The combination of the ballpoint tip and higher settings offers a buzzy vibration that gives you pleasure like you've never experienced before. No wonder it's our best seller. Although designed for clitoral stimulation, MEILE is great for nipple play and all over external love. The tip is soft to the touch and made with FDA grade, body safe silicone. 
The unique ball design allows you to receive pleasure wherever you focus the toy.
One button, countless functions.
Unlike other toys that users may find confusing, love. not war. has only one button for every function. It is easy to locate (at the bottom of the battery base), leaving no problems when the lights go out… the button will illuminate when on, or charging so that you know it's working! It is also equipped with a low power indicator, ensuring you are always prepared. 
To test out the toys' 4 intensity levels and 7 vibration patterns, simply click the button to feel the next pattern. If you're having trouble, there is a card that comes with the toy illustrating how all patterns feel. 
Did you know?
When you purchase your first love. not war. vibrator, you will notice that the head is detachable. This means you only need one Power of Love Battery Base for the entire heads range. This sleek and innovative design is one of the reasons we have won 5 awards in just one year. 
With over 20 years of experience in this industry, love. not war.'s co-founders carefully designed the battery base and each head with your pleasure in mind. Each battery base has been designed, so that when charging it does not look like a sex toy. The battery base is made from recycled aluminium, leaving a high quality luxury finish on the toy.