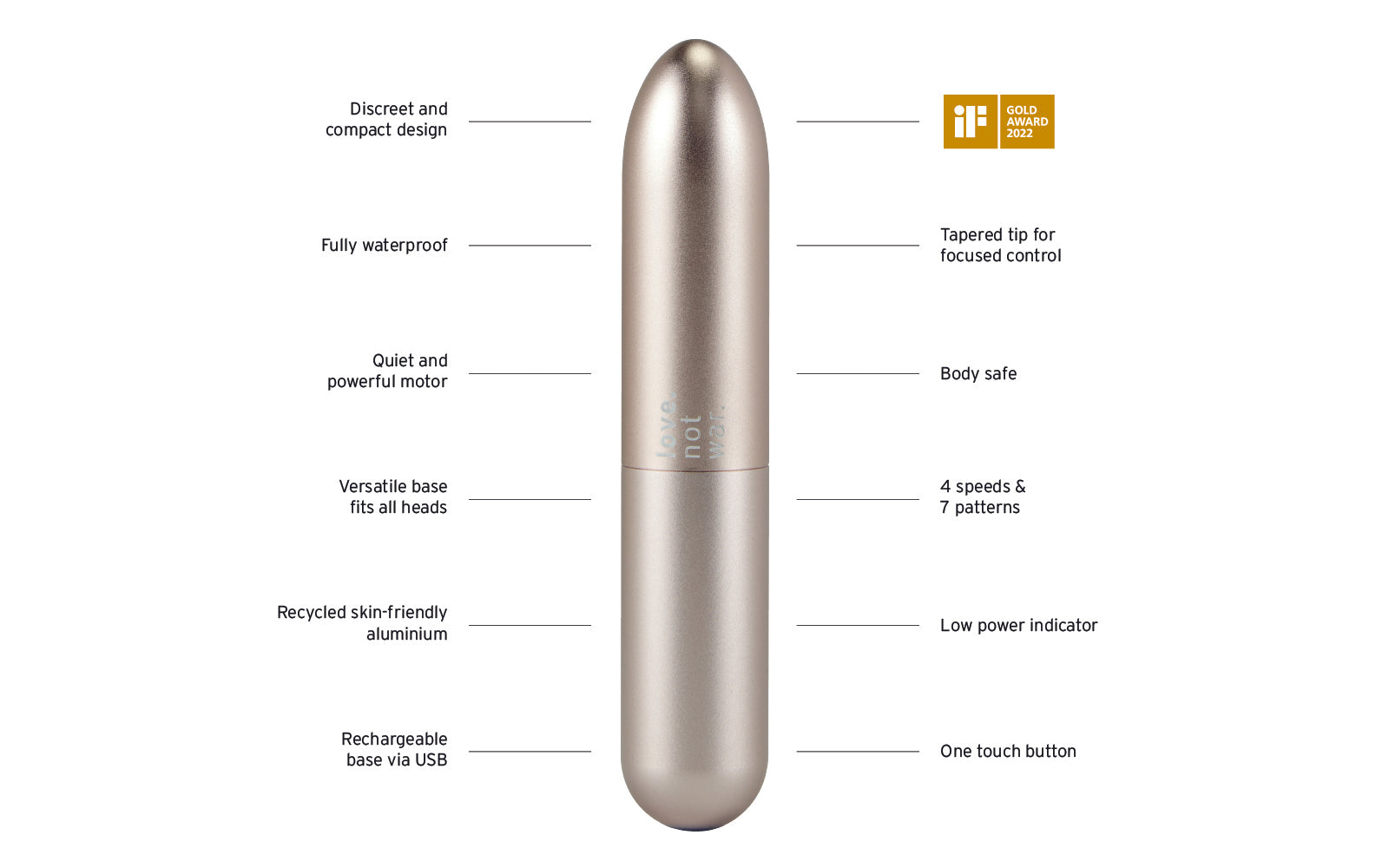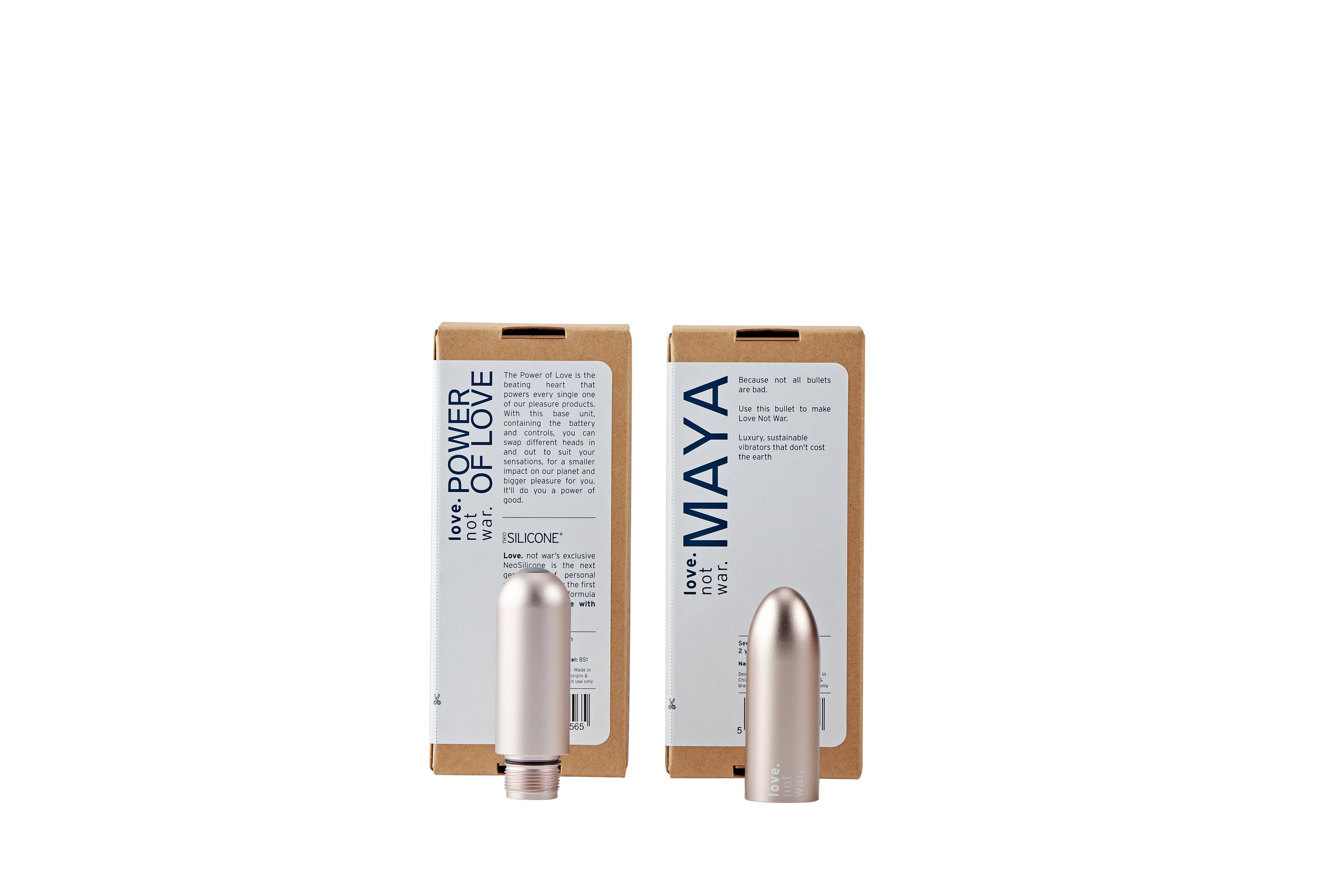 Maya - Quiet Bullet Vibrator for Targeted Stimulation
A heart of gold, and a body of recycled aluminium. MAYA is living proof that sustainability IS sexy.

This beautiful, discreetly designed bullet vibe from LOVE NOT WAR is intensely powerful, with the metal surface delivering satisfying waves of pleasure directly into your erogenous zones. That tapered tip gives you accurate control, and the aluminium can be cooled or warmed to suit your sensitivity.

Maya is every bit is gorgeous to use as it is to look at, and it's as good for the environment as it is for your body.

It is the next level of elegant pleasure.


For: Clit stimulation, temperature play and all other external or internal fun
Feels: Smooth and sleek to the touch and deceptively powerful
Bonus: The tapered head is perfect for pinpoint pleasure and the aluminium surface is perfect for temperature play
Type: Bullet

Length: 135mm

Diameter: Ø22.5mm

Battery life: 1 hour on max

Charging time: 2 hours
Maya - Quiet Bullet Vibrator for Targeted Stimulation
Features
Made from body & earth safe materials
- The earth and your clit will thank you
Compatible with all love. not war. vibe heads
- Only 1 rechargeable battery base needed for multiple toys
Waterproof
- Long baths, quick showers and naughty lake days approved
Repairable and recyclable
Quiet
- Because some things you might like to keep to yourself
Low Power Indicator
- Don't get caught with your pants down
Shipping
Conscientious shipping
At love. not war. we make it a priority for our shipping process to match our products, in that it is as 'green' as possible.  Everything from our shipping partners to our packaging is taken into consideration.
Fast & Discreet Shipping
Once your order has been shipped you should receive it within 5 working days. 
Shipping prices will depend on your location:
UK -  Free shipping
USA -  Free shipping
Rest of world - £20
You may also care to know that all love. not war. products are delivered in completely discreet packaging with no clues as to what is inside the package.
Get in touch
We currently ship to the UK, Europe and the USA. However, it is important to note that we are always adding more markets to our shipment list, so if you are currently living outside of these areas, please feel free to get in touch with us at hello@l-n-w.com and we will see what is possible. 
Our dedication to sustainability.
MAYA's motor back in the base is made with a plastic that is biodegradable, and our logo is lovingly engraved onto the toy with a laser, so there is no ink or nasty chemicals used. Our packaging is also sealed with earth-friendly glue, and the ink used on our packaging is soy-ink, a sustainable solution. MAYA uses no silicone and is made with 99% recycled aluminium. 
Our toys will come with a white, sleek travel bag, made from Tencel lyocell. We use this material, because it's better for the environment than other materials. It does not use harmful chemicals in the production process, and the earth friendly ink we use to print our logo on the bag is easily transferable and long lasting. 
Tencel is also less likely to gather bacteria and other nasties that can transfer to the toy. It also requires less energy and water than conventional cotton, and as it's plant-derived, it is biodegradable. If that's not enough, Tencel is also considerably thicker, to help protect the product.
Because sustainability is sexy
This bullet-shaped vibe is love. not war.'s most sustainable product yet, made from 99% recycled aluminium, it also has a tapered tip meaning it can target specific areas of the body with ease. If you're after a sleek, simple and smooth vibrator that gets straight to the point, MAYA is the one for you. 
Discreet and sexy, MAYA's compact size is great to take on travels. It is also made from smooth, recycled aluminium making it perfect for temperature play. It can be submerged in warm or cold water to stimulate the senses, MAYA's head can even be stored in the freezer to offer a unique cooling experience that mimics an ice cube. 
With four intensity levels and seven vibration patterns, the fully waterproof MAYA is perfect for a quick burst of pleasure right at your desired spot. MAYA is perfect for clitoral stimulation, and all over external fun
One button, countless functions.
Unlike other toys that users may find confusing, love. not war. has only one button for every function. It is easy to locate (at the bottom of the battery base), leaving no problems when the lights go out… the button will illuminate when on, or charging so that you know it's working! It is also equipped with a low power indicator, ensuring you are always prepared.
To test out the toys 4 intensity levels and 7 vibration patterns, simply click the button to feel the next pattern. If you're having trouble, there is a card that comes with the toy illustrating how all patterns feel. 
Did you know?
When you purchase your first love. not war. vibrator, you will notice that the head is detachable. This means you only need one Power of Love Battery Base for the entire heads range. This sleek and innovative design is one of the reasons we have won 5 awards in just one year. 
With over 20 years of experience in this industry, love. not war.'s co-founders carefully designed the battery base and each head with your pleasure in mind. Each battery base has been designed, so that when charging it does not look like a sex toy. The battery base is made from recycled aluminium, leaving a high quality luxury finish on the toy.