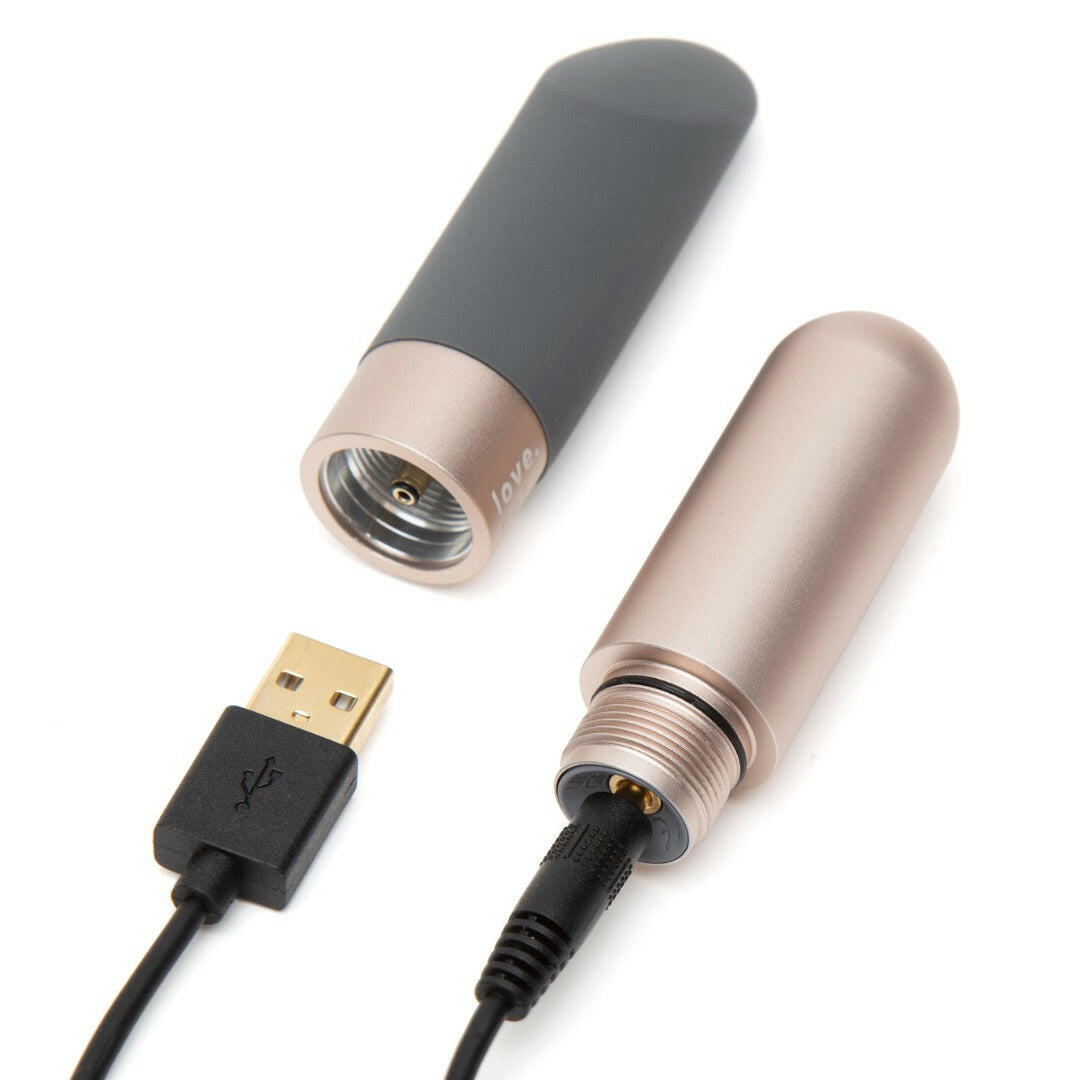 Charging cable for love. not war. toys
Features:
- Use with any love. not war. vibrator base
- A charger comes with your vibrator purchase, you can use this an extra or replacement
- Plugs into any USB port or wall adapter
- A universal charger for a keen traveler!
What is the charger for?
This USB charger comes with every love. not war. vibrator that is purchased to keep it powered up and ready for use. You can now purchase the charger on its own, separate from the devices. Bring it as an extra with you when you travel, replace the one you left in your hotel room (it happens to the best of us), or just have a back up because, why not be prepared?
Is it region-specific?
This universal charger can be plugged into any USB port or adapter, anywhere in the world!
How do I use the charger?
Simply unscrew the vibrator base from the head, connect the USB to a plug or adapter, and charge away!
Charging cable for love. not war. toys
Features
Made from body & earth safe materials
- The earth and your clit will thank you
Compatible with all love. not war. vibe heads
- Only 1 rechargeable battery needed for multiple toys
Waterproof
- Long baths, quick showers and naughty lake days approved
Repairable and recyclable
Quiet
- Because some things you might like to keep to yourself
Travel lock
- You could always blame your phone…
Shipping
Conscientious shipping
At love. not war. we make it a priority for our shipping process to match our products, in that it is as 'green' as possible.  Everything from our shipping partners to our packaging is taken into consideration.
Fast & Discreet Shipping
Once your order has been shipped you should receive it within 5 working days. 
Shipping prices will depend on your location:
UK -  Free shipping
USA -  Free shipping
Rest of world - £20
You may also care to know that all love. not war. products are delivered in completely discreet packaging with no clues as to what is inside the package.
Get in touch
We currently ship to the UK, Europe and the USA. However, it is important to note that we are always adding more markets to our shipment list, so if you are currently living outside of these areas, please feel free to get in touch with us at hello@l-n-w.com and we will see what is possible. 
Good to you, your body and the earth
Using only sustainable and body-safe materials, right down to the soy ink on our packaging, we have created a range of eco-friendly sex toys that makes no compromises when it comes to your pleasure or the planet.
Made from locally sourced sustainable materials, in our custom-built green-energy powered factory, our sex toys are both safe for your body and the environment.
No compromise between pleasure or the planet
We have been nominated for several top industry awards including 'Progressive Sex Toy Company', 'New Pleasure Company of the Year',  'Luxury Pleasure Product: Gra' and also for a Green Product Award. And we are currently a finalist in the iF Design Awards.
Our products are not only eco-friendly but are also high-quality products that are built to last. We are the world's leading eco-friendly vibrator brand for a reason.
One button, countless functions.
Unlike other toys that users may find confusing, love. not war. has only one button for every function. It is easy to locate (at the bottom of the base), leaving no problems when the lights go out… the button will illuminate when on, or charging so that you know it's working! It is also equipped with a travel lock, to save any awkwardness at the airport. 
To test out the toys 4 intensity levels and 7 vibration patterns, simply click the button to feel the next pattern. If you're having trouble, there is a card that comes with the toy illustrating how all patterns feel. 
Did you know?
When you purchase your first love. not war. vibrator, you will notice that the head is detachable. This means you only need one vibrating base for the entire heads range. This sleek and innovative design is one of the reasons we have won 5 awards in just one year. 
With over 20 years experience in this industry, love. not war.'s co-founders carefully designed the vibrating base and each head with your pleasure in mind. Each vibrating base has been designed, so that when charging it does not look like a sex toy. The base is made from recycled aluminium, leaving a high quality luxury finish on the toy.